Baseball and Softball Clinics
We provide baseball and softball clinics of the highest quality to equip your athlete on the field with the tools to succeed.
Our baseball and softball clinics are the most effective and affordable way for your athlete to be equipped with the drills and the knowledge that will help them develop more quickly. During these clinics, our instructors work successfully with athletes at every skill level and age. We are able to encourage development with your athlete based on the motivation style, learning style, and personal goals of every athlete.
Through our BASE By Pros clinics, your athlete will receive all the benefits of our individual instruction with the added bonus of group accountability, community, competition, and fun! We believe clinics help athletes learn skills needed for success on the field, how to work toward common goals, how to become better athletes and teammates, and how to be better equipped for competition.
What Does a Clinic Look Like?
Starting tier of baseball and softball instructions offered, starting at $55 each lessons. Save on clinics if purchasing multiple clinics If you are just starting out with training, we recommend starting with a clinic session
One hour training session with up to 10 other athletes with a highly qualified BASE By Pros Instructor
One clinic session available each week, for as long as you wish to train for
Every athlete receives focused, cutting edge drills designed to maximize their ability and improve skills
Athletes are provided with instructions to help progress each week
Clinics are focused on development in all aspects of baseball and softball: hitting, fielding, pitching and catching
Opportunity to participate in our hitting league
I wasn't sure where to start with Base By Pros, but glad we started with a clinic to get a feel for the mentors and training with our son.  We were so happy with the results after 4 clinic sessons, we decided to increase our baseball training with individual lessons 

- Jeff G.
---
Hitting League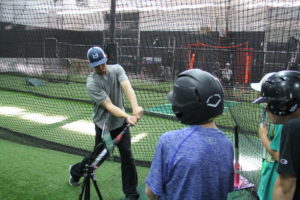 At the end of each month, participating Clinic athletes have the chance to compete in our hitting league with chances to win prizes! It is designed to keep things fun and competitive.
About Hitting League
– Two clinic groups split up evenly upon BASE By Pros Instructor's discretion
– Play one hour game
– Points rewarded for multiple target hit within the cages
– Each team will bat through the line up, then alternate
– Main goal is to have fun and enjoy a little competition!
---
AT BASE BY PROS WE UNDERSTAND WHAT IT TAKES TO SUCCEED IN BASEBALL AND SOFTBALL
Our baseball and softball instructors will keep your athlete focused, accountable, and improving every lesson. With BASE By Pros instruction, your athlete will achieve results you never thought were possible.
At BASE By Pros
– We understand how difficult the game is
– We have a proven system that prevents long term struggle
– We instill confidence in our athletes by challenging them every day
– We are mentors who recognize that positive and healthy relationships between instructors and athletes contribute to the success of young athletes
Every BASE by Pros athlete is provided with a personalized instruction program that is tracked in their BASE By Pros notebooks. After every lesson, our athletes write down specific drills they worked through, as well as the drills or goals they must accomplish before their next lesson. We also ask every BASE By Pros athlete specialized questions that help our instructors see where an athlete may need more physical or mental development and improvement. Our goal is that your athlete will not only improve physically, but also mentally, making them an unstoppable athlete!
BASE By Pros specializes in dynamic, innovative and interactive training, which is exactly what your athlete needs for success! We value quality instruction as well as learning new ways to teach and motivate young athletes. Because the game is always evolving, our instruction at BASE By Pros, must also continue to evolve.
By the end of the BASE By Pros Clinic, your athlete will
– Experience an increase in power
– Become more consistent on the field
– Gain confidence
– Better understand how to self correct in game situations
– Learn personal goal setting
– Learn accountability
– Create Competition that will raise each athlete's game
– Equip each athlete to go home and work on their game
BASE By Pros specialized in dynamic, innovative and interactive Clinics which is exactly what your athlete is looking for. We are always learning new ways to teach and motivate as each generation of athletes learns differently. Plus the game is always evolving, so we must also continue to evolve.