Just Play! Mindset Training Series
JUST LAUNCHED!
Courses now being implemented at the Academy and curriculum also available online to all sports organizations at https://basebypros.podia.com.
16 Weeks of Thought Provoking Mental Lessons
to Guide Your Athletic Team's Training Program

What percentage of your practice time is focused on individual & team drills? …game planning? …film study? …physical fitness?
Now, how much time is spent training…THE MIND?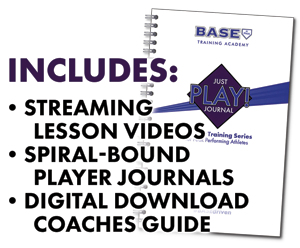 A player's mental approach is perhaps the greatest contributor to in-game success, yet we spend very little time on mental training. Coaches typically gloss over it citing a lack of training tools…until now.
Former MLB Player Brent Lillibridge and Author and Peak Performance Coach Collin Henderson collaborate to bring you a fresh approach to team practices. Practice time is valuable. Don't just go through the motions. Whether you coach on the diamond, court, field, pitch, or pool, encourage your players to get their mind right by kicking practice off with a simple, 3-step mindset training session:
Share an animated video featuring a captivating story that introduces the topic of the day's mindset lesson.
Lead an engaging team discussion based on simple talking points provided in your Coaches Guide.
Encourage accountability as players quickly track goals and lesson comprehension in their Players Journal.
Just 10 minutes to promise your practice is filled
with like-minded, confident, and focused players!
Available now through our Podia creators portal for just $24.99! ($19.99 Digital Only)
Ask about bulk licensing discounts for your sports team or organization.
---
No more posts
No more posts