Baseball and Softball Training
Give your athlete all the tools needed to succeed on and off the field. With our former professional baseball and softball players, we will help you excel in all facets of the game with sound instructions. Most importantly, we make sure to make it fun.
Our mentors have years of experience with baseball and softball instructions to help your athlete improve their hitting, pitching, catching and fielding.
Lessons are typically held at our BASE by Pros Training Academy in Lynnwood, WA (Google Maps). Coaches are more than willing to travel to meet with teams at remote locations, however. Please contact us for more information.
Three Ways to Develop
Schedule an




INDIVIDUAL LESSON (1:1)
For one-on-one coaching and mentoring from former professional baseball and softball players, we give your athlete the attention needed to raise the level of their game. Prices start at $105 a lesson and includes a FREE 30 minute introductory lesson for new guests.
Schedule a




GROUP LESSON (2:1)
Willing to share time with your instructor? Save money by booking a slot that a second student may book as well. Prices start at $70 a lesson and includes a FREE introductory lesson for new guests.
Join a




WEEKLY CLINIC (4:1)
BASE by Pros baseball and softball instructors regularly offer weekly clinics in a larger group setting based on their area of expertise. Clinics cover skills such as fielding, hitting, catching and pitching. Prices start at $45 per clinic.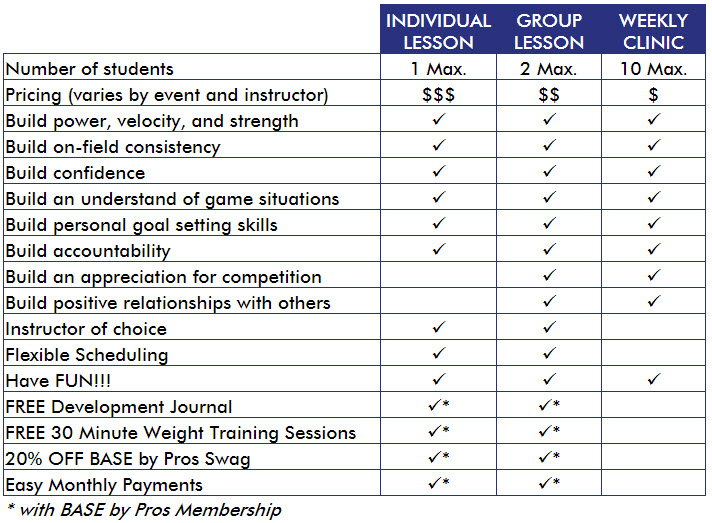 I wasn't sure where to start with Base By Pros, but glad we started with a clinic to get a feel for the mentors and training with our son.  We were so happy with the results after 4 clinic sessons, we decided to increase our baseball training with individual lessons.

- Jeff G.
BASE By Pros Understands What It Takes to Succeed in Baseball and Softball
Our instructors will keep your athlete focused, accountable, and improving every lesson. With BASE By Pros instruction, your athlete will achieve results you never thought were possible!
At BASE By Pros:
We understand how difficult the game is.
We have a proven system that prevents long term struggle.
We instill confidence in our athletes by challenging them every day.
We are mentors who recognize that healthy relationships between instructors and athletes contribute to the success of young athletes.
Every BASE by Pros athlete is provided with a personalized instruction program that is tracked in their BASE By Pros notebooks. After every lesson, our athletes write down specific drills they worked through, as well as the drills or goals they must accomplish before their next lesson. We also ask every BASE By Pros athlete specialized questions that help our instructors see where an athlete may need more physical or mental development and improvement. Our goal is that your athlete will not only improve physically, but also mentally, making them an unstoppable athlete!
BASE By Pros specializes in dynamic, innovative and interactive training, which is exactly what your athlete needs for success! We value quality instruction as well as learning new ways to teach and motivate young athletes. Because the game is always evolving, our instruction at BASE By Pros, must also continue to evolve.